It is generally common knowledge that youth are interested in developing meaningful friendships and romantic relationships. Youth are learning about relationships from many external sources which include "sexist" societal popular culture, TV shows, movies, video games, online sites, and through advertisements. Research shows that teens' attitudes predict their future behaviour. This is why it is important to recognize how the media may be negatively affecting their ideas.[i] It has been identified through the delivery of adult prevention programs that it is extremely difficult to unlearn abusive behaviours. Youth are making connections and relationships with nearly everyone they encounter.  This is the best time in their lives to be taught about healthy relationships, as adolescents are open to new ideas and to learning.
A recent survey of 35 countries indicates that amongst 13-year-old boys, Canada has the 9th highest rate of bullying!  Within Canada, studies have proven that a minimum of 1 in 3 adolescent students have reported being bullied.[ii]  "Sexual harassment, or unwanted sexual attention, is a common experience for Canadian students at the start of high school: reported by 44.1% of girls and 42.4% of boys in a recent Ontario study with 1734 Grade 9 students" (Chiodo, Wolfe, Crooks, Hughes, & Jaffe, 2009). [iii] These shocking statistics call for an immediate need for an increase of public education and awareness when it comes to unhealthy relationships and the often associated abuse.  Without early intervention, a significant number of youth who bully as children will continue to bully as they move through adolescence and into adulthood.[iv]
I have been privileged in my work as the Public Education Coordinator to have gained opportunities to facilitate workshops in Elementary and High Schools. We are continuing to grow our opportunities as we begin to work with post-secondary schools.  When visiting these schools, it is quickly learned that many kids, teens and young adults are not aware of the many actions or behaviours that fall under each type of abuse. They tend to be shocked when they learn that behaviours they may have perceived as loving are in fact controlling and unhealthy. In addition to the different types of abuse, we also discuss the impacts of abuse and violence with an overwhelming focus on self-esteem, confidence, effective communication and mental health while challenging the gender stereotypes presented in the media and seen throughout society.
By having a Public Education program at Yellow Brick House it has allowed us to take a proactive step within our community to raise awareness and educate youth and young adults about dating violence and abuse. Public education is vital to reducing abuse and violence in our communities. It ensures young people are equipped with the knowledge and resources needed to ask questions about their relationships and are aware of where and how to get help/support when it comes to safely leaving a relationship after those first warning signs become apparent!
The benefits of both community and school based programming that addresses the specific and growing issues of gender-based violence is overwhelming: [v]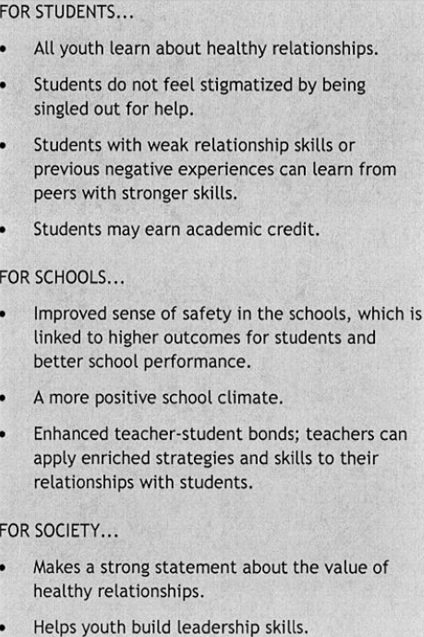 Learn more about Yellow Brick House's Public Education initiatives by visiting our website. You can also explore our "School's for Change" workshop menu and begin your school booking TODAY!   We also conduct presentations within businesses and corporations.  Please call us to find out more about how we can help your workforce be healthier and happier.
By: Marisa Mei
Public Education Coordinator, Yellow Brick House
---
[i] Healthy Relationships 101 – An overview of school-based healthy relationships programs (page 4). Canadian Women's Foundation
[ii] Chiodo, Wolfe, Crooks, Hughes, & Jaffe, 2009
[iii] https://globalnews.ca/news/3973345/intimate-partner-domestic-violence-deaths-canada
[iv] Healthy Relationships 101 – An overview of school-based healthy relationships programs (page 4). Canadian Women's Foundation
[v] Healthy Relationships 101 – An overview of school-based healthy relationships programs (page 5). Canadian Women's Foundation