The Courage of a Woman is NOT Enough
Now in its fourth year, shelters across the province of Ontario are encouraging their local neighbourhoods to become Wrapped In Courage.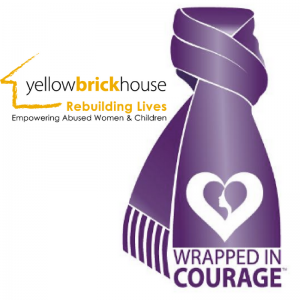 November is Woman Abuse Prevention Month. The purple scarf is a symbol of the courage it takes woman leave her abuser. However, the courage of the woman is not enough. It takes the strength of an entire community to end violence against women.
On average 20-30 women a year are murdered in the province of Ontario alone. It is the number two reason for calls to the emergency police services. Additionally, it overwhelmingly affects children in the areas of: focus at school; relationships with peers and adults; increased risk of participating in high risk behaviours such as substance abuse; and increased risk of anxiety and depression.
During the month of November, everyone across Ontario is invited to participate in showing abused women across the province that they have our support by purchasing and wearing a purple scarf.
The United Nations has designated November 25th as the International Day for the Elimination of Violence Against Women as the first of 16 days of Action to eliminate Violence Against Women across the world. We are asking you to wear our purple scarf especially on these days to show your courage to abused women and their children that their community supports them and they are not alone.
Get your Wrapped In Courage purple scarf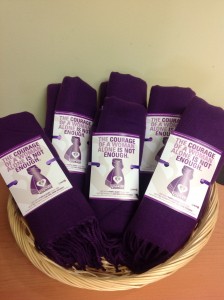 You can pick yours up from our administrative offices located at:
52 West Beaver Creek Road, Unit 4, Richmond Hill.